FREQUENCY OF STRESS, ANXIETY AND DEPRESSION IN CLINICAL AND PRE-CLINICAL PHYSIOTHERAPY STUDENTS
Keywords:
Frequency, Depression, Stress, Anxiety, Pre-clinical, Clinical, Physiotherapy
Abstract
Background: Depression is a psychological disorder which is characterized by persistent low mood for two weeks or more. Anxiety is a state of uneasiness. Stress occurs when an individual is in such a condition that he/she is unable to cope with. Students especially those belonging to health sciences are seen to be more affected by these psychological phenomena. Burden of study, huge syllabus and continuous exams and visas are considered to be leading causes. Objective: To calculate the frequency of stress, anxiety and Depression in the physiotherapy students of Allama Iqbal Medical College. Study design: A cross-sectional Study. Setting: Decart ment of Physiotherapy at Allama Iqbal Medical College Lahore. Period: Nov 2016 to Feb 2017. Material and Method: 40 subjects were included in the study. The duration of the study was four months. Convenience Sampling was carried out. The data was collected with the help of DASS21. The data was analyzed with the help of SPSS version 16.0 Results: Results show that 70% students had depression, 82.5% had anxiety and 37.5% had stress. The frequency of stress, anxiety and Depression was resulted to be higher in males as compared to females. Depression and Stress was higher in students in their pre-clinical years of study whereas anxiety was higher in clinical years of study Conclusion: Students of physical therapy are prone to Depression, Anxiety and Stress. Males were seen to be more affected. Students in their pre-clinical years were seen to be more affected.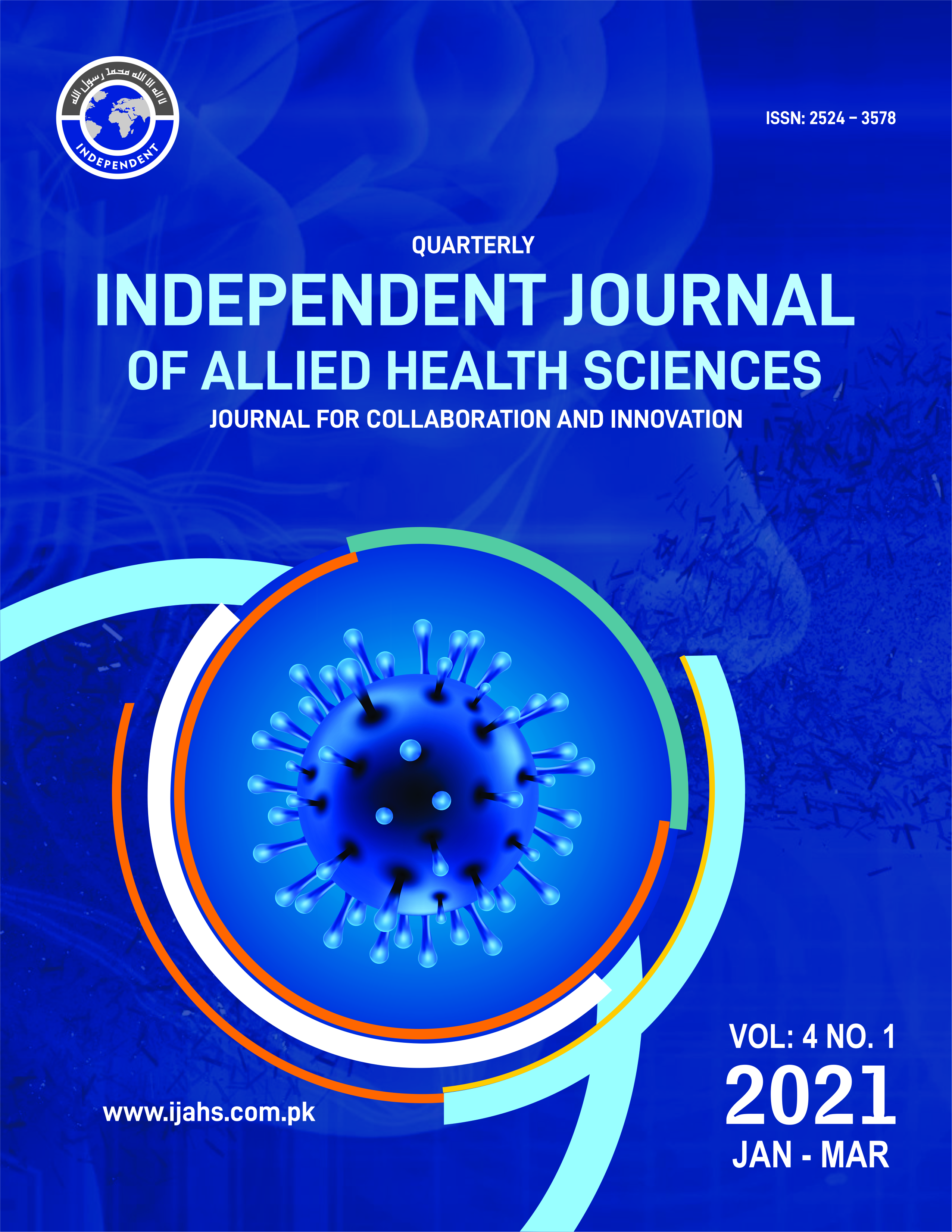 Downloads
License
This work is licensed under a Creative Commons Attribution-NonCommercial 4.0 International License.